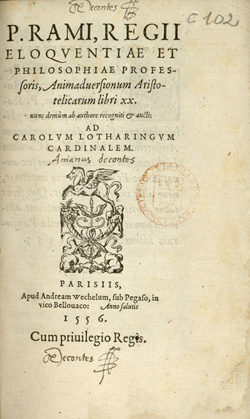 Auteur :

La Ramée, Pierre de


Titre :

Animadversionum Aristotelicarum libri xx. Nunc demum ab authore recogniti & aucti


Imprimeur :

Wechel, André


Libraire :

Wechel, André


Lieu de publication :

Paris


Date :

1556


Format :

8°


Collation :

[15, 1 bl.], 1-328 p. ; [1, 1 bl., 13, 1 bl.], 1-48 p., 49-60, [2], 61-64 f., 65-146, [10] p. ; [1, 1 bl.], 3-80, [1, 1 bl.], 83-141, [2 bl., 1] p. (sig. A8 A-V8 X4 ; a-d8 e18 f-r8 ; A-I8)



Titre long:

P. Rami, Regii eloquentiae et philosophiae professoris, Animadversionum Aristotelicarum libri xx. nunc demum ab authore recogniti & aucti: Ad Carolum Lotaringum Cardinalem.


Adresse typographique :

Parisiis, Apud Andream Wechelum, sub Pegaso, in vico Bellouaco: Anno salutis 1556. Cum priuilegio Regis.


Ancien possesseur :

Contes, Aignan de


Dédicataire :

Charles de Lorraine


Langue :

Latin


Notes :

Privilège royal accordé pour six ans à André Wechel, daté de Paris, ides de septembre 1555 (signé De Courlay).
Quatre parties indépendantes, possédant sa propre page de titre et sa propre collation.
- Première partie : livres I à VIII, "De Categoriis, de Interpretatione, de Prioribus analyticis"
- Seconde partie : livres IX et X, "In posteriora Analytica"
- Troisième partie : livres XI à XVIII , "libri octo in totidem Aristotelis Topica"
- Quatrième partie : livres XIX et XX, "In Elenchos".

D'après Walter J. Ong, "This work is not a mere reordering of the books in the Roigny and David editions above, but a rewritten work. Although the preface to part 3 (Libri IX et X) is the same and bears the same date as that of the 1553 editions of these books listed above, the text of the books themselves is here changed, rather slightly: the Greek phrases in Ramus' commentary have been done away with and troublesome passages, such as those on method, altered." (Ramus and Talon Inventory, p. 61).




Etat physique :




Reliure :

Veau brun (XVIe siècle).


Provenance :

Au titre, ex-libris et signature "Anianus Decontes" (Aignan de Contes, échevin d'Orléans en 1568, auteur d'un panégyrique sur Pierre Daniel).


Annotations :

Nombreuses annotations manuscrites en latin et grec (XVIe siècle).



Matière :

Philosophie



Bibliographie :

Ong (W. J.), Ramus and Talon Inventory, Cambridge (MA), 1958, n° 26 (p. 60-61).

USTC : 151943



Localisation :

Orléans, Bibliothèque municipale, Fonds ancien


Cote :

C102



Numérisation :

CESR - Digibook - 2008


Mise en ligne :

13/11/2014


Url :

http://www.bvh.univ-tours.fr/Consult/index.asp?numfiche=1173



Crédits :

Bibliothèque municipale Orléans